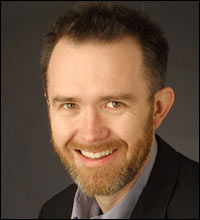 As a journalist, writing in the first person is still pretty new for me. But starting this site, blogging professionally and generally entering the Web 2.0 world is essential for my professional survival, and reading Romenesko, the blog-stlye round-up of media-industry news, reminds me of that fact daily. On the one hand, it's freeing to write from the heart, share my opinions and borrow from my own life when I need an interesting lead. On the other hand, I have this feeling of creeping out onto a frozen pond, never quite sure when the ice will break, and I'll fall through, suddenly finding every opinion I've admitted to online has now become a personal or professional liability.
Here's the main danger: Market forces are pushing us journalists to write more personally. But do we know what the hell we're getting ourselves into? I see colleagues who write about their children by name (I am sometimes guilty of that) and I know one editor blogged professionally about a thought that crossed her mind while having sex (I won't even link to that because I'm embarassed for her.) Blogging about religion brings its own particular hazards. Do you share the ups and downs of your own faith life, or admit to not having one at all?
The truth is we journalists have always gathered material from our own lives, telling those stories by writing about others in the same situation: We call experts who will say in print what we think in private.  With blogging, we can't hide behind the impersonal anymore, and it's often an uncomfortable feeling. And our ambivalence often limits the power of our blogs — in a sense, we are blogging with one journalistic hand tied behind our backs.
Because all of us "straight" journalists are now, intentionally or not, becoming opinion journalists too, I wanted to get some perspective — dare I say wisdom? — from someone who has lived as an opinion journalist in religion for a long time: Rod Dreher. Author of the 2006 book Crunchy Cons, Dreher is an editorial writer and columnist for the Dallas Morning News, and his Beliefnet.com blog, Crunchy Con, regularly generates heated discussion among commenters. I asked him about his decision to share his religious life with the world, and how that process has affected his family, his life and his role as a journalist.
Andrea Useem: "Orthodoxy and Me," your 5,700-word posting on how and why you converted from Catholicism to Eastern Orthodoxy, has been your most highly trafficked and most-commented-on post to date. Why did you decide to make that personal choice public on your blog almost two years ago now?
Rod Dreher: I felt that I owed it to my readers. I converted to Catholicism back in 1993, and since then I had made my Catholicism a central part of my journalism. When the sex-abuse scandal broke in 2002, I took a role front-and-center writing about it, advocating for reform and castigating the bishops. That role as a Catholic reformer came to define who I was for a lot of my readers. So when I lost my Catholic faith, and ended up moving to Eastern Orthodoxy, I felt I had a professional obligation to my readers to explain why. But I also wanted it to be a confession and a warning to others. I had been very prideful about my Catholic faith and had really thought that, as a Catholic, I was on the intellectual A-Team of Christianity in America. I depended on intellectuality, if that's a word, to sustain me. Well, I was wrong about that. And I wanted to own up in public to my own responsibility for what happened to me, and not just blame the bishops and the bad priests. There were things that I did or failed to do that resulted in me losing my Catholic faith. If I had been a different kind of Catholic, I might have been able to withstand the time of testing and done what I believe is my duty as a journalist and as a Christian to defend the defenseless and speak out against injustice without blowing up my own faith.
Useem: Former L.A. Times religion-beat journalist William Lobdell wrote last year that he lost all religious feeling while reporting on religious scandals - I believe his account of that process was one his most widely read columns ever (and his book on the topic is due out in February, 2009.) Is your warning, then, to fellow journalists to steer clear of writing about your own faith?
Dreher: I'm not sure how to answer that. On the one hand, I don't want journalists to shy away from asking necessary questions, but I do think journalists should be prepared for what they might see. At the beginning of this journey that ended up with me losing my Catholic faith, I'd gotten in touch with Father Tom Doyle, one very brave Catholic priest who pretty much destroyed his own career by speaking out on behalf of victims of clerical sex abuse. Father Doyle warned me, Knowing I was a very pious orthodox Catholic, Father Doyle warned me that if I continued on this path [of reporting on the sex-abuse scandal,] I was going find places darker than I realized existed. And, of course, that was catnip to a journalist. I thought I was prepared for it because I said my prayers and was a regular church goer. But in fact the degree of evil I encountered was not something I was prepared to face. I remember one archbishop, with whom I had been friendly, and asking me privately if I didn't trust the bishops, why was I still a Catholic? It really shook me up. It undermined the picture I had of who were the good guys and who were the bad guys, and who could be trusted. After I converted to Eastern Orthodox Christianity, I made a deliberate decision not to investigate the scandals in my own church. And there are scandals there. My family need me to be spiritually healthy. My family needs to have a church. And there's nowhere left to go. So I can stand on the sidelines and watch journalists commenting about scandals in the Orthodox Church, and I can cheer them on to see justice done, but I cannot be involved in that. If that makes me a less of a journalist, then that's something I have to live with, but at least now I know my weaknesses.
Useem: How does not reporting on problems in your own faith make you "less of a journalist?"
Dreher: Angry Catholics come at me, saying, "You were so quick to write about the Catholic Church's problems. Why not the Orthodox Church's problems?"  My answer is my faith is not strong enough to withstand going through that again, but that doesn't satisfy them because they feel treated unfairly. Right now I'm chomping at the bit to write about the big financial scandal in the Orthodox Church in America, but I think, "Don't go there. You're not spiritually strong enough."  That's when I doubt myself as a journalist. To give another example, on the morning of September 11th, when the towers were burning, I was running from my home in Brooklyn to Manhattan to cover the story. While I was on the Brooklyn Bridge, I saw the south tower fall. I had a decision to make, because I knew in a few minutes they would close off the bridge. Do I continue to run toward the disaster? Or do I turn around and go back to Brooklyn and check on my wife and child? I made the decision to go back and look after my family. I filed the story about what I had seen that day on the bridge, and that was that. That decision haunted me professionally because I missed the story of my lifetime. But in that moment of testing, I realized that my family is more important to me than my job. And in that spirit, I have to be very careful when I write about faith, so I don't damage myself spiritually in such a way that I'm a burden on my wife and children.
Useem:  As an opinion journalist, you make your private life public. Do you have any regrets about that?
Dreher: Yes, I do. Truman Capote was one of my early influences and favorite writers of journalism. But Capote ruined himself in the '70s when he wrote a short story for Esquire that was a thinly veiled account of high-society Manhattan gossip. He told some very scandalous stories out of school, and when it was published, he lost all of his close friends, because they believed he had betrayed them. He was shocked that this happened. He said in a subsequent interview, "Didn't they know they were talking to a writer?" I think a lot about that. So many times, I'll put something on my blog, and my wife will say, "I wish you hadn't done that."  I've gotten better about checking with people first, or even saying, "Maybe I just shouldn't post this at all."  But as writers, we tend to think everything is material. Just recently, I was my family down in Louisiana, and I noticed a couple of times, my mom or sister would say, "Now, don't blog this!"  I was embarrassed because I realized maybe they had seen things on the blog they didn't want public. As writers, we have to realize that we may choose to make our own lives public, but we don't have the moral right to do that with those who are close to us. For a writer like me, where my family is such a big part of what I write about, I'm constantly having to negotiate those lines. One thing I have learned is I am never going to put any photos of my children on my blog. I've done that before, but right now the police are investigating someone who has been harassing my family with a malicious prank, and they brought my wife's name into it. It's unnerving to me because there are some crazy people in the world, and when you put information out there in public about your life and your family's life, you don't have control over what people do with it. My wife shouldn't have to suffer because people hate my opinions.
Useem: How do you maintain your inner, religious life, when it is also fodder for your public life?
Dreher: My wife says to me, "You have no unblogged thoughts." That's not entirely true, but she has a point. But I work in the mainstream media, where there aren't a lot of religious people, and as a man of faith, I like to see mainstream figures talk about their faith in a real way. I have blogged about supernatural things that have happened to me, because I know they happen to others too, but others are afraid to talk about them because they're afraid people will laugh at them. I want to show people you can work in the mainstream media and be a person of faith, whatever your faith is, and not have to be ashamed of it. If that means I get a certain amount of ridicule, well, so be it. I've developed a really tough skin over the years.  And when I get a letter or email from someone saying, "That happened to me too. Thank you for being brave enough to speak out," [I feel rewarded] for my role. At the same time, as I learned from reporting on the Catholic scandal, I have to be careful and not get carried away. In my passion for making things public, I leave myself open to attack, spiritual and otherwise, that could end up compromising my faith.