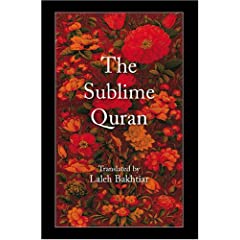 By Andrea Useem
What does it mean to beat someone "lightly?" Muslims have debated this question over the centuries while interpreting a verse in the Qur'an where God instructs Muslim men, if they fear "disobedience" from their wives, to take several steps: admonish them, sleep separately from them, and then-here's the point of controversy. Until now most Muslims have understood the final command, idribuhun, to mean "beat them lightly." Scholars have given this phrase a range of meanings, some as innocuous as tapping a wife with a wet noodle, others as ominous as hitting them without leaving a mark.
But to Laleh Bakhtiar, an Iranian-American Muslim author and translator, this interpretation seemed both illogical and immoral. "As Muslims we are supposed to follow the Prophet Muhammad's example, and we know that the Prophet never hit anybody," so how could the Qur'an be saying it is okay? Bakhtiar told RBL, noting that when the Prophet Muhammad was upset with any of his multiple wives, he withdrew from them for some weeks rather than beat them.When Bakhtiar, in the midst of what became a seven-year project to translate the Qur'an into English, came across an alternative translation for the word in question that meant "to go away from," instead of "to beat lightly," it made perfect sense to her, she said.
Her new translation of the holy text, The Sublime Quran, is out this month from the Chicago-based Kazi Publications and is the first by an American Muslim woman; U.K.-based Madinah Press published the 1999 Noble Qur'an, which was translated by Englishwoman Aisha Bewley and her husband.
But with the "beat them lightly" interpretation so ingrained in Muslim thought and legal structures, will her translation really effect change? "It's a start," she said. "The very fact that Kazi Publications, the oldest Muslim publisher in America, is willing to publish it is in itself a sign things are changing." 
So far her translation has stirred mostly controversy, with Arabic grammarians challenging her translation of the verse and rank-and-file Muslims in the blogosphere criticizing the fact that Bakhtiar doesn't speak modern Arabic.
Bakhtiar said she hopes her translation will elevate the image of the Prophet Muhammad around the world. "Why can the Danish feel they can make fun of him? Because we're allowing behavior that is immoral and then expecting everyone to respect our Prophet. It doesn't work that way. It has to start with us: we have to morally heal ourselves first."
Previous articles in Religion BookLine on Laleh Bakhtiar:
"New Qur'an Translation by American Woman Will Be a First," by Marcia Z. Nelson, Religion BookLine, June 21, 2006
"A Bridge Between Two Cultures," Religion BookLine, May, 1996
Other Coverage of Laleh Bakhtiar's new translation:
"Translating Quran for today," (op-ed) by Laleh Bakhtiar, The Chicago Tribune, April 15, 2007
"A new look at a holy text," by Noreen Ahmed-Ullah, The Chicago Tribune, April 10, 2007
"Verse in Koran on beating wife gets a new translation," by Neil MacFarquhar, International Herald Tribune, March 25, 2007
"Saved by Bakhtiar," (blog posting: critique of Neil MacFarquhar article) by Muslim blogger Sunni Sister, March 25, 2007
"When Every Word Counts," (commentary) by Hesham Hassaballa, Beliefnet.com, undated