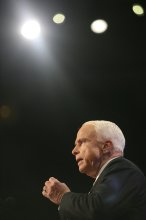 Last night's speech from GOP presidential nominee John McCain's speech in St. Paul was lackluster at moments, particular in comparison to the "electrifying" speech of VP nominee Sarah Palin the night before. But there was one moment, toward the end, when the hall grew quiet and focused, and the cameras had an easier time finding faces of people who were genuinely riveted, and some who even had tears on their cheeks: that's when McCain talked about his personal transformation as a prisoner of war in Vietnam.
He introduced the topic in a strange but graceful way, saying, "I was blessed by misfortune." Having read the Washington Post Michael Leahy's excellent and exhaustive account of McCain's early years as a resentful, combative and sometimes directionless young man, this line really caught my attention. Because the story of McCain's life up until he was shot down and captured in Vietnam is a little, well, depressing: He was inextricably bound up in the expectations of his rough-talking, high-achieving father and grandfather, and McCain didn't seem to handle it particularly well. Rather than rebel by, say, refusing to go to the Naval Academy and striking out on his own path, McCain did attend the Naval Academy, but, according to Leahy's profile, he was mostly unhappy, unfocused and often angry.
In his speech last night, McCain described his own character and personality before his ordeal this way:
I thought I was tougher than anyone. I was pretty independent then, too. I liked to bend a few rules, and pick a few fights for the fun of it. But I did it for my own pleasure; my own pride. I didn't think there was a cause more important than me.
But when he was shot down, with two broken arms and broken leg, he eventually found himself in a cell with two other American captives. He recalled:
I couldn't do anything. I couldn't even feed myself. They did it for me. I was beginning to learn the limits of my selfish independence. Those men saved my life.
His fellow captives taught him, he said, the crucial lesson, that "No man can always stand alone."
McCain concluded his speech with a call to Americans to serve their country in whatever way they can: by teaching, or joining the military, or feeding the hungry. "Our country will be the better, and you will be the happier. Because nothing brings greater happiness in life than to serve a cause greater than yourself."
I emphasize that last line because it struck me that this is McCain's true faith. Although he is a church-goer and talks about the importance of Judeo-Christian values, I suspect his deepest sense of purpose comes from his discovery of human solidarity. While using Jesus-language might best stir up the so-called evangelical base, I think this broader faith has more appeal, and he did well to emphasize it.
(Photo by Tom LeGro, via Flickr)