What can the insights of economics tell us about the motivations of suicide bombers? A quick answer might be that the people (nearly all young men) who kill themselves while killing others are down-trodden, poor, and depressed by their limited circumstances in life.
Yet research does not bear out this out. Many suicide bombers, including the Sept. 11 and London July 7 killers, come from middle-class, educated backgrounds; a 2003 study by Claude Berrebi found Palestinian suicide bombers were, on average, better educated and better off than average Palestinians. How then to explain their supremely self-defeating (and evil) acts?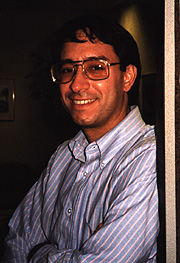 Larry Iannaccone, a
George
Mason
University
professor and leader in the effort to
apply economic theory to the study of religion
, offers a surprising explanation in his 2003 paper,
"The Market for Martyrs."
"Injury-oriented sacrifice can be modeled as a market phenomenon grounded in exchanges between a relatively small supply of people willing to sacrifice themselves and a relatively large number of 'demanders' who benefit from the sacrificers' acts," he writes.
In other words, suicide bombers are responding to a market demand for their services.
Iannaccone sees violent groups like Al-Qaeda as "religious firms" that "produce" violent acts to attract outside "customers" or "investors," who in turn respond with financial and moral support. The biggest problem for these leaders would be finding a "workforce"of people willing to sacrifice their own lives, right? Not so, writes Iannaccone.
Sadly, the basic supply of labor is readily available. Many people can be induced to steal, riot, vandalize, kill, or commit acts other acts of violence, protest, and civil disobedience. Indeed, societies devote substantial effort to limit the voluntary supply of such activities.And membership has its advantages. Religious-terrorist groups offer recruits a "product bundle" that includes "intense camaraderie, power, status, honor, identity, purpose, a special 'career' devoted to 'great' goals, religious activities and rituals, powerful emotional experiences, and the prospect of heavenly rewards," he writes.
Given these powerful incentives, trying to reduce suicide bombing by focusing on the supply side is inefficient, because the demand will quickly create new recruits, Iannaccone argues. How then to cut off demand? He writes that the "martyrdom market" is strong only "when numerous exceptional conditions combine." The task, then, is to understand this market enough to pinpoint
the relatively small structural changes and activities most likely to reduce cooperation within terror firms, increase damaging competition between firms, and undercut the firms' ability to collect payment for services rendered, and above all diminish the underlying demand for those homicidal services.