Sep
25
This presidential election cycle is supposed to be all about religion, right? The pundit mop-up of George Bush's 2004 victory was all about "values voters," and while the "God gap" apparently narrowed in the 2006 mid-term elections, we've still had any number of articles about how the Democrats are getting religion. (We are awaiting a book from journalist Amy Sullivan on this topic.) And of course religious talk has been much in evidence from the Democrats, including an entire debate devoted to the subject of faith.
Given this new hyper-focus on personal religious faith as a political plus, some of the findings of a survey released earlier this month by the Pew Forum on Religion & Public Life provide some puzzling material for pundits to chew over.
Consider these contrarian facts:
When asked what issues would be most important to them in terms of voting, all groups — Democrats and Republicans, evangelicals, Catholics and everyone else in between — rated domestic issues (like the economy, health care and education) and the war in Iraq as more important than social issues (like abortion and gay marriage.)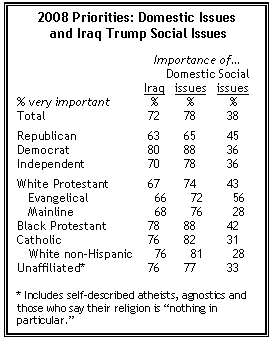 Note in the Pew table to the left, of course, there are some variations: 45% of Republicans mention social issues as "very important" compared with 36% of Democrats, and White evangelicals are most concerned with social issues (56% mentioning them as "very important,") compared to mainline Protestants, who are the least concerned (28%.)
While some might argue that on a local level, these slight differences might make or break a president, it seems unlikely that the 2008 election will be all about the "values voters."
Here's another one: The two most popular candidates right now are not the candidates perceived as most religious. According to the Pew survey, Hillary Clinton is perceived as less religious than either Barack Obama or John Edwards, yet she is the current front-runner. Similarly on the Republican side, Rudy Giuliani leads in popularity, even though he is perceived as less religious than Fred Thompson, John McCain and Mitt Romney. (And ReligionWriter would like to meet the 14% of people who perceived Giuliani as "very religious.")
If religion matters in 2008, then pundits are going to have to explain Giuliani's popularity with Republicans — where did all the values voters go? Here too the Pew study may provide a clue: Could Giuliani be riding a wave of favorable ignorance? Nearly 60% of voters who say that social issues are "very important" don't know what Giuliani's position on abortion is (he says he "believes in a woman's right to choose.") In other words, more than half of the people one expects to reject Giuliani outright are unaware of his abortion stance — it seems that Giuliani might have a tough row to hoe if his lead continues and "values voters" become better informed about his social issue positions.
Some parting questions:
In talking faith and values, are Democrats fighting the last war?
Will the mini-industry of religion-and-politics pundits and reporters (ReligionWriter included) fairly report on the unimportance of religion in the campaign?
If religion is a non-decisive issue in 2008, will all the buzz over religion in public life fade away, to be replaced by another, yet-to-be discovered issue? (Readers, tell us what this might be!)
Comments