Jun
22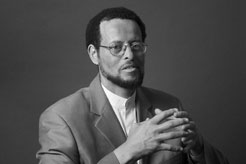 When interviewed tonight on Bill Moyers' Journal, Imam Zaid Shakir appeared relaxed, looking straight at Mr. Moyers with his light brown eyes. But when the subject turned to the question of the divine mandate for wife-beating, Imam Shakir appeared flustered.
Moyers read to Shakir a translation of the Koranic verse 4:34, which, in the Yusuf Ali translation, reads in part:
As to those women on whose party ye fear disloyalty and ill-conduct, admonish them (first), (next) refuse to share their beds, (and last) beat them (lightly); but if they return to obedience, seek not against them means (of annoyance): for Allah is Most High, Great (above you all.)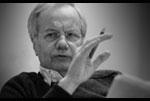 Moyers described this verse as written by men, for men, and asked Shakir: Couldn't some men interpret this as divine sanction to beat their wives? (As of 10:40 PM June 22, the show's transcript was not online.)
ReligionWriter was curious to see if Shakir would mention a recent translation of that verse by an American Muslim woman, which rendered the word formerly translated as to "beat them" to read "go away from them." Shakir did not reference that translation, indicating that the new translation has not yet been embraced by mainstream Muslims like Shakir.
Instead, he made the point that the verse must be read within the context of the entire Koran (i.e. where justice and mercy are commanded,) and that men who beat their wives would do so with or without divine sanction.
Moyers then pressed Shakir on the issue of woman-led prayer — a concept Shakir rejects. Moyer asked him if, in fact, American Muslims would have to adapt to "American" standards and accept female religious leadership. Moyers repeated use of the word "American" — along with his somewhat impassioned tone — seemed a bit odd, given that many American religious groups do not accept female clerical leadership. For example, GOP presidential hopeful Fred Thompson's church, the Churches of Christ, do not allow women to preach or lead a mixed congregation. In the Mormon church, only men can access the priesthood; in the Catholic Church women's ordination is not allowed.
Perhaps the most interesting aspect of the interview with Shakir was his description of his mother, as a thoughtful and well-read single mother of seven. Next month, Shakir's sister is publishing her mother's diary, Dear Self: A Year in the Life of a Welfare Mother. In the Moyers segment, Shakir speaks of how his mother's intellectualism shaped his life and made him who he is today. Entirely aside from viewpoints on Islam, Shakir seems to have a fascinating personal story — rising from poverty to study at some of the best universities in the U.S. and Muslim world, and now becoming a major Muslim American leader.
(UPDATE: transcript now available)
Apr
20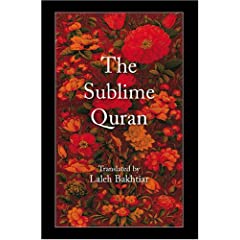 By Andrea Useem
What does it mean to beat someone "lightly?" Muslims have debated this question over the centuries while interpreting a verse in the Qur'an where God instructs Muslim men, if they fear "disobedience" from their wives, to take several steps: admonish them, sleep separately from them, and then—here's the point of controversy. Until now most Muslims have understood the final command, idribuhun, to mean "beat them lightly." Scholars have given this phrase a range of meanings, some as innocuous as tapping a wife with a wet noodle, others as ominous as hitting them without leaving a mark.But to Laleh Bakhtiar, an Iranian-American Muslim author and translator, this interpretation seemed both illogical and immoral. "As Muslims we are supposed to follow the Prophet Muhammad's example, and we know that the Prophet never hit anybody," so how could the Qur'an be saying it is okay? Bakhtiar told RBL, noting that when the Prophet Muhammad was upset with any of his multiple wives, he withdrew from them for some weeks rather than beat them.When Bakhtiar, in the midst of what became a seven-year project to translate the Qur'an into English, came across an alternative translation for the word in question that meant "to go away from," instead of "to beat lightly," it made perfect sense to her, she said. Her new translation of the holy text, The Sublime Quran, is out this month from the Chicago-based Kazi Publications and is the first by an American Muslim woman; U.K.-based Madinah Press published the 1999 Noble Qur'an, which was translated by Englishwoman Aisha Bewley and her husband.
<!-[if !vml]-><!-[endif]->But with the "beat them lightly" interpretation so ingrained in Muslim thought and legal structures, will her translation really effect change? "It's a start," she said. "The very fact that Kazi Publications, the oldest Muslim publisher in
America
, is willing to publish it is in itself a sign things are changing." So far her translation has stirred mostly controversy, with Arabic grammarians challenging her translation of the verse and rank-and-file Muslims in the blogosphere criticizing the fact that Bakhtiar doesn't speak modern Arabic.
Bakhtiar said she hopes her translation will elevate the image of the Prophet Muhammad around the world. "Why can the Danish feel they can make fun of him? Because we're allowing behavior that is immoral and then expecting everyone to respect our Prophet. It doesn't work that way. It has to start with us: we have to morally heal ourselves first."
Previous articles in Religion BookLine on Laleh Bakhtiar:
"New Qur'an Translation by American Woman Will Be a First," by Marcia Z. Nelson, Religion BookLine, June 21, 2006
"A Bridge Between Two Cultures," Religion BookLine, May, 1996
Other Coverage of Laleh Bakhtiar's new translation:
"Translating Quran for today," (op-ed) by Laleh Bakhtiar, The Chicago Tribune, April 15, 2007
"A new look at a holy text," by Noreen Ahmed-Ullah, The Chicago Tribune, April 10, 2007
"Verse in Koran on beating wife gets a new translation," by Neil MacFarquhar, International Herald Tribune, March 25, 2007
"Saved by Bakhtiar," (blog posting: critique of Neil MacFarquhar article) by Muslim blogger Sunni Sister, March 25, 2007
"When Every Word Counts," (commentary) by Hesham Hassaballa, Beliefnet.com, undated
Comments