Talk to a savvy evangelical pastor these days, and he (yes, he probably will be a "he") might sound a lot like a marketing executive. Todd Wilson, the "Executive Pastor" at New Life, a dynamic multi-site church in Northern Virginia, told ReligionWriter, reporting for a 2005 Washington Examiner story, that walking into a church should be a "multi-sensory experience, like walking into a Starbucks."
Indeed, the connection between marketing and missionizing goes way back, as churches and corporations have long been borrowing ideas from one another. As ReligionWriter wrote about last year, in "Product Placement in the Pews? Microtargeting Meets Megachurches," this mixing of religion and business has some strange, and perhaps troubling, new incarnations.
But most American churches are neither booming megachurches not "revolutionary" multisite ministries. According to 2003 research from the Barna Group, the U.S. is "dominated by small churches, with the average church attracting less than 90 adults on a typical weekend."
It is these small and mid-size churches that concern Sidney Williams, a man who speaks the languages of both faith and finance. Williams, a former venture capitalist who now serves as "Minister for Economic Development" at his church in suburban Maryland, is organizing, together with management professor Bernard Williams, an executive education program at his alma mater, the Wharton School, for faith leaders who need MBA-like skills to do serious economic development work.
For Williams, the insights and hard skills of the business world can best be applied not in attracting new church members, but in helping fellow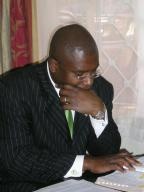 community members. He says,
It boils down to mission. In some churches, their mission is to get people saved for heavenly reward. For others, their mission is to proselytize Third World countries so others will join their religion. There is still another group of pastors who say, "I am going to build a community where I am planted and help create a decent place to live for our neighbors."
Williams sees his mission rooted in the Christianity of the 18th century First Great Awakening, when charity became something for the average church-goer, not just the wealthy philanthropist. African-American churches, such as William's own A.M.E. church, have carried on the tradition of community development, and the leading lights today include Kirbyjon Caldwell and Floyd Flake.
Williams, founder of the consulting group EKOS Ministries, which is convening the faith-leader training program with the Wharton School, however, says Korean, Hispanic and Chinese congregations have also become more involved in community development in recent years.
So while some question the mixing of religion and business that results in the "commercialization of church," Sidney Williams efforts are an entirely different branch of the same tree.
Read ReligionWriter's entire story on the topic here: "From Pastor to Executive: Equipping Faith Leaders for Economic Development"
Sphere: Related Content