Photo: Muslim American teens Farah and Sarah Albani, interviewed by Judy Woodruff for the PBS documentary, "The Muslim Americans." (Photo from the PBS website)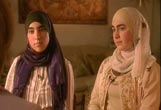 As part of its 11-part documentary series on the post-9/11 world, "America at a Crossroads," PBS last night broadcast "The Muslim Americans," a one-hour segment that was panned by the New York Times' Virginia Heffernan, who called it a "public service announcement," and by Greg Kamiya, who described the show in a Salon.com article as "standard feel-good multiculturalism, perfectly decent but not offering much original insight." ReligionWriter agrees with those characterizations and notes the following:
Weaknesses: The correspondents showed a less-than-sophisticated grasp of Islam in general and the dynamics of the American Muslim community in particular. MacNeil/Lehrer correspondent Spencer Michels referred throughout his reporting to the religion of "ISS-lim," rather than using the standard and correct pronunciation, "Is-LAAM." This lack of awareness and/or depth-of-reporting was also reflected in Michel's seeming surprise and incredulity when an immigrant Muslim said he was worried about Muslim youth drifting towards extremism. Correspondent Judy Woodruff presented two teenage Muslim sisters with little depth, leaving unchallenged a statement from one that she would not date, but rather follow her religion and marry when the time was right.
In general, the correspondents presented at face value most of the statements made by the Muslims featured in the show rather than exploring, investigating or sourcing them. Robert MacNeil, in his narration of the show, said several times that young American Muslims have increasingly embraced their religious identity since 9/11, yet the show offered little evidence to back up this claim.
Bright Spots: The show brought the life and work of Rami Nashashibi and his
Chicago-area
Inner-City
Muslim
Action
Center
(IMAN)
to a wider audience and also focused on the little-profiled Muslim community in
Cedar Rapids, Iowa
, which first established itself in the late 19
th
century.
For more and better analysis of the American Muslim experience, see:
"American Islam: The Struggle for the Soul of a Religion," by Paul Barrett (Farrar, Straus and Giroux: 2007)
"Muslim Women in America: The Challenge of Islamic Identity Today," by Yvonne Haddad, Jane Smith and Kathleen Moore (
Oxford
University
Press: 2006)
"Islam and the Blackamerican: Looking Toward the Third Resurrection," by Sherman Jackson (
Oxford
University
Press: 2005.)
"Living Islam Out Loud: American Muslim Women Speak," by Saleemah Abdul-Ghafur (Beacon Press: 2005)
Altmuslim.com for Muslim American news, analysis and opinion.