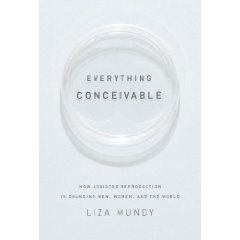 If you're looking for a summer-reading book that will both keep you up late at night turning pages and give you a shopping-list-long set of often-heartbreaking moral questions to ponder, then run don't walk to get Liza Mundy's recent book, Everything Conceivable: How Assisted Reproduction is Changing Men, Women and the World.
While reporters have covered aspects of the ethical dilemmas posed by assisted reproduction technology, such as parents struggling to decide what to do with unneeded frozen embryos, or some people's discomfort with gay men become parents through surrogacy, or, of course, the question of women delaying childbearing, Mundy appears to be the first to pull together these disparate social trends and scientific advances to give a big-picture look. And as she pulls the camera back for the wide-angle view, Mundy reveals a host of bedeviling questions, which she deftly illustrates with portraits of the real people who are wrestling with them. Here's a sample:
Are parents who have children using sperm or egg donors obliged to tell these children the truth of their conception and genetic history? If you say no, consider this story Mundy relates: A D.C.-area single mom uses a sperm donor to conceive twins, then finds out the woman across the street from her is also pregnant with twins — from the same donor! These sets of twins, who are genetic half-siblings, could be in the same class at the same school: Do they have a right to know that their potential friends or even, at some point, mates are in fact related to them?
On the flip side, Mundy describes the situation in the UK, where sentiment favoring children's right-to-know runs high; anonymous sperm and egg donation is now prohibited. This law, however, has had the effect of drying up gamete donations — meaning, as Mundy puts it, some children won't be born as a result — and pushing UK parents to seek anonymous donors in Eastern Europe. (And the word "donors" here belies the fact that in many countries, including the U.S., women can earn thousands of dollars for donating eggs.)
Should there be a limit on how many embryos fertility doctors transfer to a mother's womb in the case of in-vitro fertilization (IVF)? If you feel like you don't know enough about the topic to make an informed decision — well, that's how many IVF-treatment parents feel when their doctor gives them five minutes to make the decision to implant one, two, three or more embryos.
The risk involved? A multiple pregnancy can seriously endanger the lives of not only the fetuses but the mother herself. Because would-be parents usually have to pay for expensive IVF cycles out of pocket, however, the pressure to transfer multiple embryos is intense. The result? A skyrocketing number of multiple births and a relatively new procedure known as "selective reduction," in which a doctor ends the life of one or more fetuses to protect the lives of the remaining fetuses.
Mundy's chapter on this topic, "Deleting Fetuses: Selective Reduction, ART's best-kept secret," is perhaps the most disturbing, as she follows several couples forced to choose between keeping all three or four fetuses — and running the risk of losing them all — or eliminating one or two of them. (A condensed version of this chapter also appeared recently in the Washington Post Magazine.) Mundy describes how one doctor decides which fetuses' hearts will stop beating on the basis of their genetic health, position in the womb, or — gulp — sex.
It is a Sophie's Choice nightmare to contemplate, especially when we read one parent's comment that selective reduction is harder to deal with after the surviving fetuses/children have been born. Said one mother who had reduced her triplet pregnancy to twins: "You think: I could have ended up with one of these being gone, and the one that is gone could have been one of these."
These are just several of the many dilemmas Mundy's book raises, and while she offers no easy answers, she says the first step is clear: There needs to be a louder, more public debate on these complex moral issues. Her book is a perfect place to begin.
Coming Wednesday: ReligionWriter interviews Liza Mundy on whether the ethical questions of assisted reproduction technology make the abortion debate is obsolete, and how religious leaders are struggling to keep up.